THE SEARCH FOR BIOACTIVE MOLECULES FOR THE CONTROL OF HUMAN, ANIMAL AND CROP DISEASE PATHOGENS AND VECTORS
Abstract
Africa is endowed with a lot of natural resources that can be utilized to solve a myriad of problems facing it. It has a rich biodiversity that remain untapped. In order for Africa especially Sub-Saharan Africa to achieve the Millennium Development Goals (MDGs) and their successor, the Sustainable Development Goals (SDGs) and Kenya, in particular, to achieve Vision 2030, there will be need for a sustainable use of local resources to develop local solutions to our problems. Poverty in this region may be narrowed down to issues of food and health security. In the area of food security, agricultural production of staple foods like maize and beans is constrained by diseases on-farm. Postharvest losses account for nearly 30%. Livestock farming in East Africa contributes 7-18% of the national GDP of member states but it is constrained by ticks and tick-borne diseases. In health security, Malaria still remains one of the major killer diseases especially for children under the age of five years. Inadequate antibiotics and antibiotic resistance are becoming a problem around the world. Helminthiasis, a neglected tropical disease, is also a serious health problem in Africa. Cancer that was not an issue on the African continent is now a major killer. In an effort to contribute to the solutions these problems, we embarked on the search for bioactive molecules that can be used as lead molecules for pharmaceuticals to control these diseases and their vectors.
Research findings will be discussed.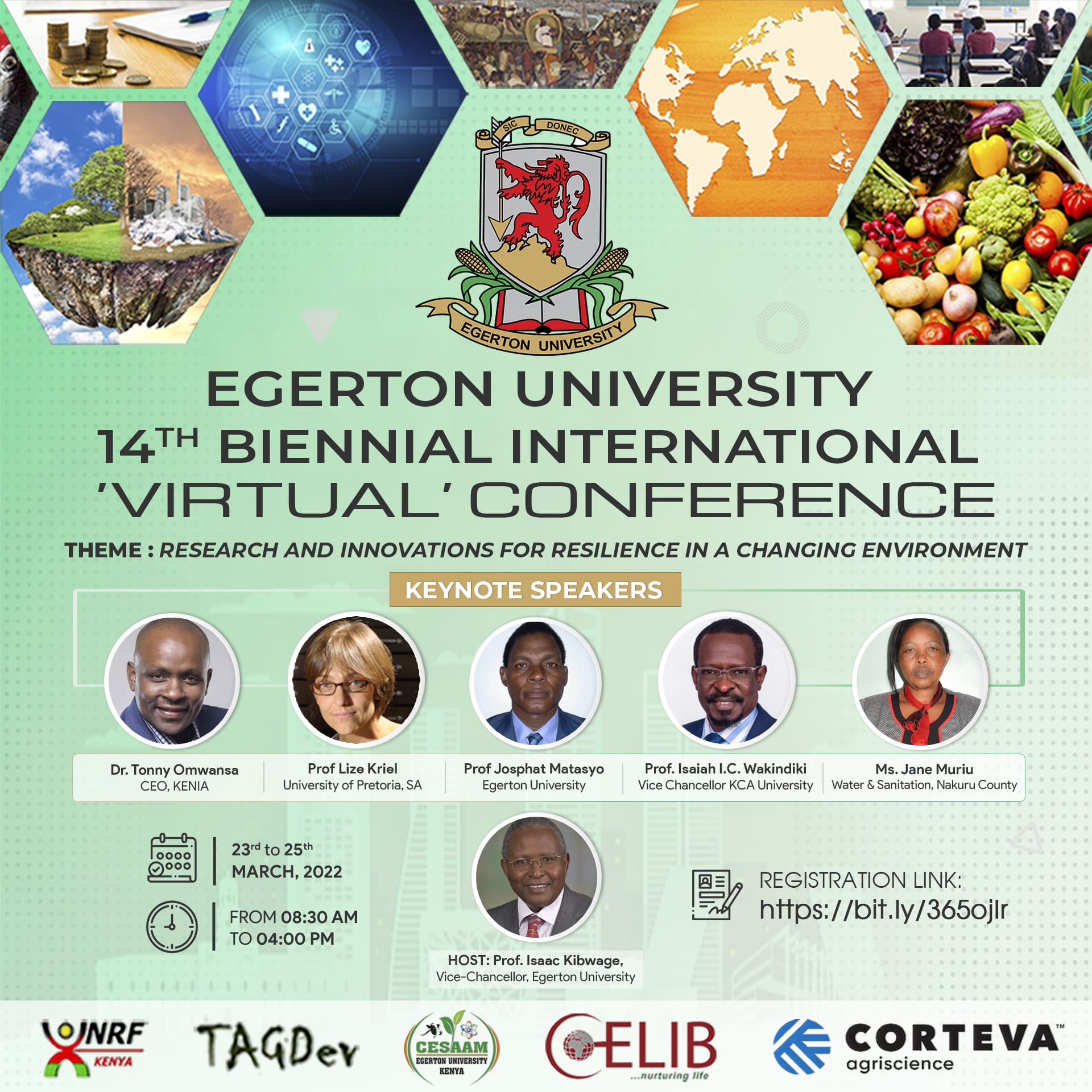 How to Cite
Matasyoh, J. (2022) "THE SEARCH FOR BIOACTIVE MOLECULES FOR THE CONTROL OF HUMAN, ANIMAL AND CROP DISEASE PATHOGENS AND VECTORS", Egerton University International Conference. Available at: https://conferences.egerton.ac.ke/index.php/euc/article/view/186 (Accessed: 4 February 2023).
Section
Health Systems, Science and Technology
License
Copyright (c) 2022 Egerton University International Conference
This work is licensed under a Creative Commons Attribution 4.0 International License.