The Analysis of value chain to reduce post- harvest losses among smallholder mango farmers in Kitui Kenya
Keywords:
Value chain, Mango, post- harvest losses, smallholder
Abstract
Owing to high perishability, primary fruit producers face pressure to sell as soon as the fruits are in season.   In Kenya, the sales are facilitated by traders who buy at farm gate. However, the traders offer low prices  compared to their profit margin. Furthermore, farmers suffer post - harvest losses of unsold fruits. A study involving analysis of the mango value chain will be conducted in Kitui county Kenya. It will aim at reducing post-harvest losses through value addition activities. This will be achieved by determining the factors leading to a market outlet by smallholder mango farmers in Kitui county, examining actors activities along the mango value chain that improve marketing of mango fruits in Kitui county, determining factors leading to post-harvest losses and analysing value additon activities on incomes among smallholder mango farmers in Kitui county. A quantitative research design will be used to collect primary data. A pre-tested structured questionnaire will be administered by well trained enumerators who will interview smallholder mango farmers, mango traders, vendors, hawkers, consumers and one mango processing firm in Kitui county.  In the county, Kitui central and Mwingi central will be the two sub counties purposively selected. A simple random sample of 215 mango farmers will be drawn from the two sub counties. 44 traders, 55 vendors, 55 hawkers and 55 consumers will also be  randomly selected in the two sub counties.  A visit to a processing firm within the county will also be made. Multinomial logistic regression, multiple linear regression, and dynamic treatment models will be used to achieve the objectives.  Data will be entered in Statistical Package for the Social Sciences (SPSS) computer programme, STATA and Excel  computer programmes. The same programmes will be used to analyse the data.
References
Kaplinsky R. and Morris P. (2002). A handbook for value chain research. Institute of Development Studies, Brighton, UK.
Karani S. (2021). Geography department: Egerton University
Kayier G. C., Amsale W. and Beshadu S. (2019). A Review on Production and Marketing of Mango Fruit. World Journal of Agriculture and Soil Science - WJASS 1SSN 2641 - 6379.
Keane J. (2013). Aid for trade and engaging with global value chains: developing trade and reducing food insecurity? Overseas Development Institute.
Kehlenbeck K., Rohde E., Njuguna J., Omari F., Wasilwa L. and Jamnadass R. (2010). Mango cultivar diversity and its potential for improving mango productivity in Kenya.Transforming agriculture for improved livelihoods through agricultural product value chains
KFSSG. (2017). Kitui County 2016 Short Rains Food Security Assessment Report.
Kiaya V. (2014). Post - harvest Losses and Strategies to Reduce them: Technical paper - Scientific and technical department.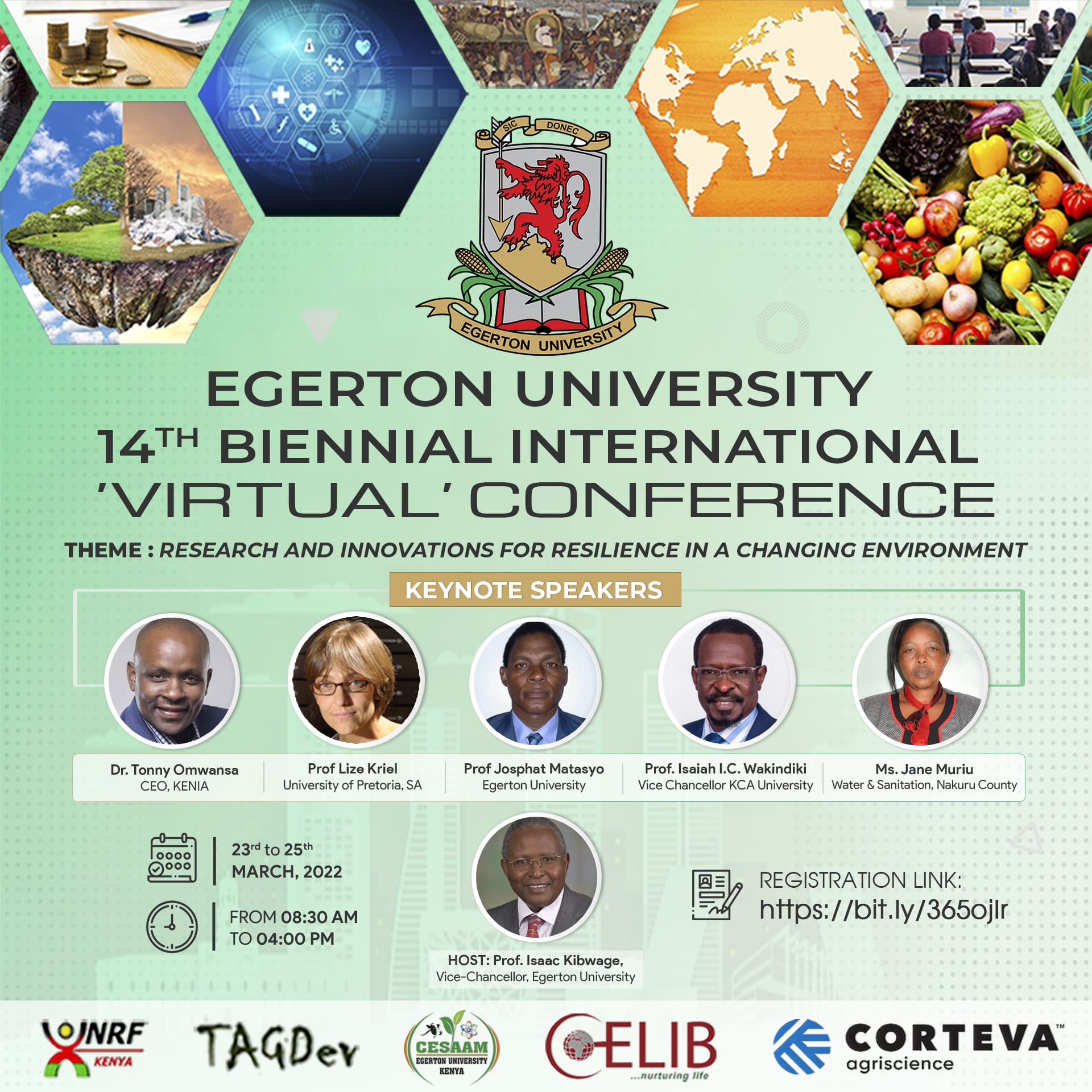 How to Cite
Kiharuki, E. M. (2022) "The Analysis of value chain to reduce post- harvest losses among smallholder mango farmers in Kitui Kenya", Egerton University International Conference. Available at: https://conferences.egerton.ac.ke/index.php/euc/article/view/99 (Accessed: 4 February 2023).
Section
Entrepreneurship, Business and Trade
License
Copyright (c) 2022 Egerton University International Conference
This work is licensed under a Creative Commons Attribution 4.0 International License.