Bioactivity of Selected Biopesticides Against Fall armyworm (Spodoptera frugiperda) in Sorghum (Sorghum bicolor) In Kenya
Abstract
Fall army worm (FAW) is a new pest in Kenya and a potential threat in Sorghum (Sorghum bicolor) production especially in arid and semi-arid lands. Farmers continue to use chemicals which are not safe to the environment and can also develop resistance, therefore several alternative environmentally safe control strategies such as host plant resistance, cultural practices and use of biopesticides need to be evaluated for effective management and to reduce the current huge yield losses caused by FAW. Objective of this study was to evaluate the efficacy of selected biopesticides (commercial formulations of Neem, Diatomite, Bacillus thuringensis, Beauveria bassiana(Balsamo) on FAW. Their efficacy was evaluated in terms of toxicity (Mortality), deterrence coefficient (DC), and percent repellence (PR) in the laboratory at Egerton University. The experiment was laid out in completely randomised design and replicated three times.  Data was subjected to analysis of variance using Genstat release 15 and means separated using LSD at p ≤ 0.05. There was significant variation in mortality (at P=0.005) for all the biopesticides on second, third, fourth and fifth instar larvae after 24, 48 and 72 hrs respectively.  Most of the biopesticides were very effective against the young second instar larvae with a grand mean of 78% mortality rate. Fourth and fifth instar larvae were difficult to control with most biopesticides showing 30% mortality rate within the first 24 hours. There was significant variation of biopesticides for Deterrence coefficient (F pr<0.001) when the fourth instar larvae were used to determine the amount of food consumed by the larvae after being subjected to treatments after 24 hours. Neem had the highest Deterrence coefficient (46%), followed by diatomite (41%). There was significant variation for repellence at P=5% for all the biopesticides. Neem had the highest repellence (46.7%), followed by diatomite (40%) while low repellence was observed for Bacillus thuringiensis (13.3%) and Beauveria bassiana (20%) respectively. These results indicate that these are potential biopesticides that can be used in combination with other integrated pest management options in sorghum production in Kenya.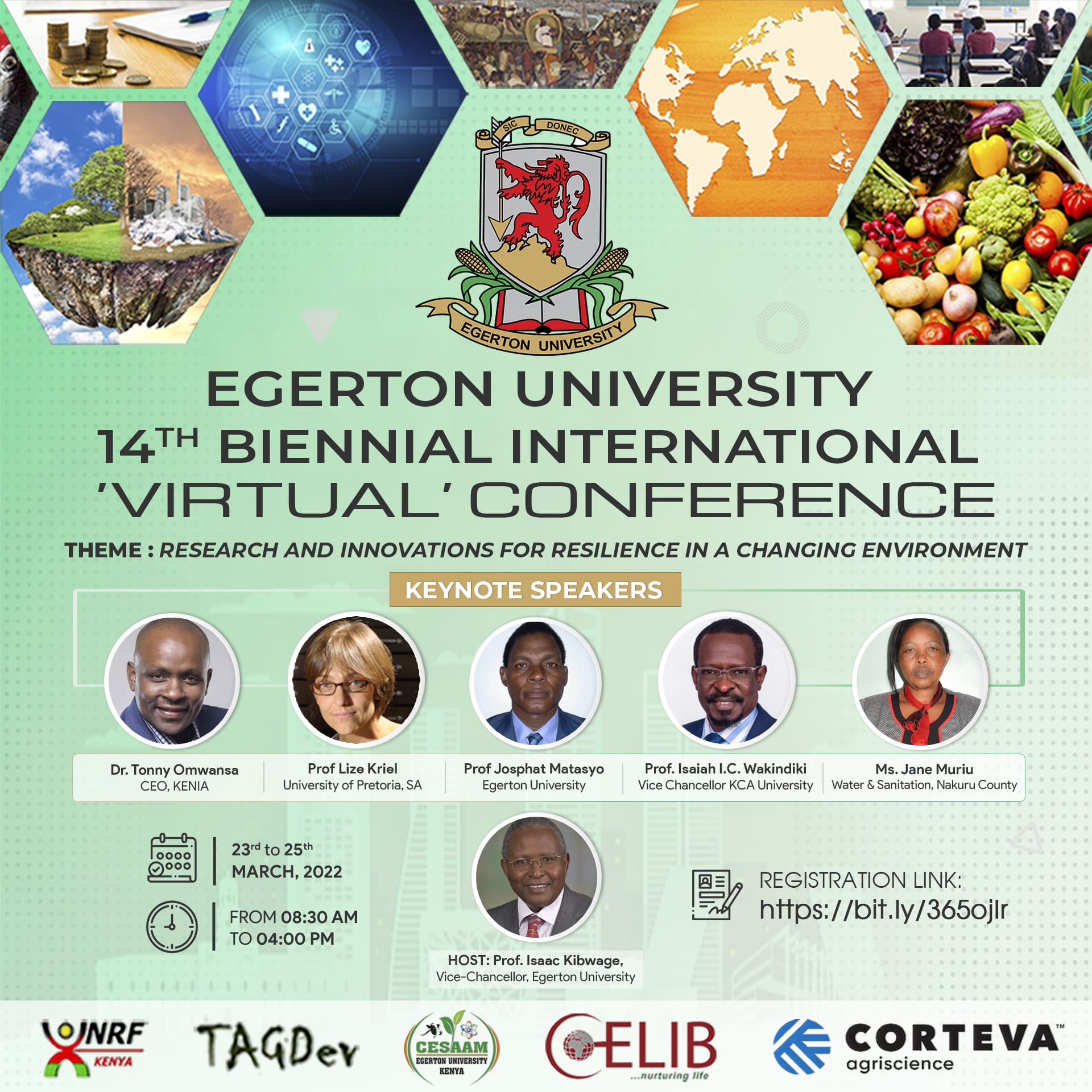 How to Cite
Njogu, N., Kimurto, P., Kamau, A., Manyasa, E., Nyaanga, J. ., Karwitha, M. and Towett, B. . (2022) "Bioactivity of Selected Biopesticides Against Fall armyworm (Spodoptera frugiperda) in Sorghum (Sorghum bicolor) In Kenya", Egerton University International Conference. Available at: https://conferences.egerton.ac.ke/index.php/euc/article/view/163 (Accessed: 4 February 2023).
Section
Transformative Agri-food Systems
License
Copyright (c) 2022 Egerton University International Conference
This work is licensed under a Creative Commons Attribution 4.0 International License.