An Evaluation of finger millet genotypes for blast disease resistance and grain yield
Keywords:
Finger millet; Blast disease; Evaluation; Yield; Resistance.
Abstract
Finger millet (Eleusine coracana L.) is a drought tolerant and nutritious cereal. Its yields are low due to biotic and abiotic stresses. Blast disease caused by Pyricularia grisea is the most devastating disease causing up to 80% yield losses. Management strategies include host plant resistance, biological, cultural and chemical control. The objective of this study was to evaluate sixty four selected finger millet genotypes for their yield and resistance to blast disease. The selected genotypes were evaluated in two sites; Busia - Alupe and Koibatek- Baringo counties of Kenya for two seasons (March-July and September –December 2020). The experiment was laid in Alpha lattice experimental design with three replicates. Data was collected on yield components and the grain yield per hectare for each genotype calculated. Blast disease severity was scored on a scale of 1-9. The scores were used to calculate Area under Disease Progress curve (AUDPC). Data was subjected to analysis of variance using SAS release 15.0 and means separated using Tukey's HSD test at p ≤ 0.05. Results showed that yield and disease resistance were highly significant among the genotypes tested at (Fpr <0.001). The yield ranged from 602-3000kg ha-1 with overall grain yield of 980kgs ha-1 for both the seasons in the two sites. High yielding and resistant genotypes in the two sites were Emoru, Ekama, IE3779, KACIMMI 22, KATFM1, KNE814, Ebati and KNE624* Snapping. Days to maturity ranged between 74-131 days with the earliest being Lowa, Emorumoru rock, Eito, KNE 622 and P 224 * Snapping, they were also resistant and high yielding.  Resistant, early maturing and high yielding genotypes are recommended for further evaluation released as commercial varieties. In conclusion there is diversity in yield and blast disease resistance amongst the sixty four genotypes evaluated.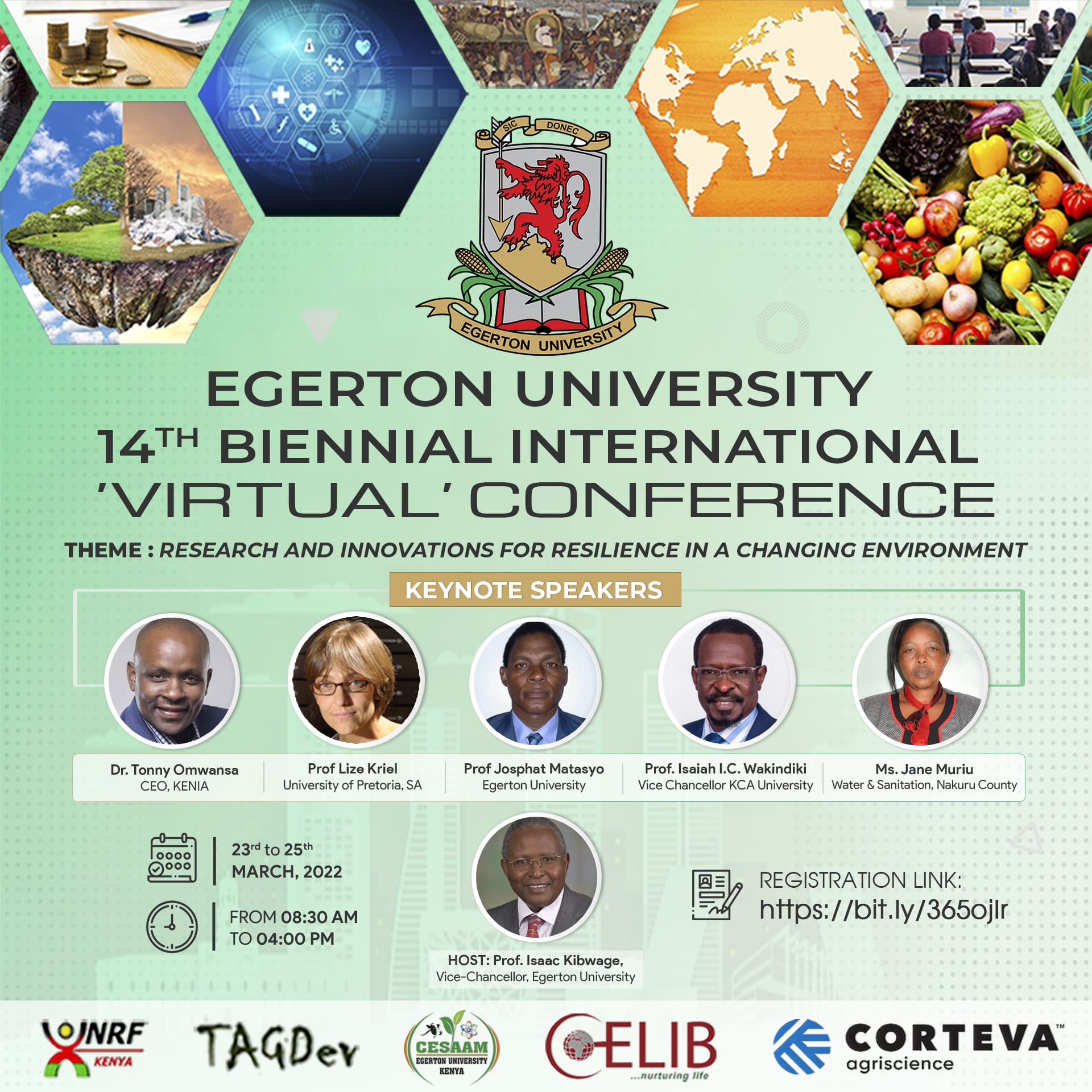 How to Cite
Jeptanui, L. (2022) "An Evaluation of finger millet genotypes for blast disease resistance and grain yield", Egerton University International Conference. Available at: https://conferences.egerton.ac.ke/index.php/euc/article/view/178 (Accessed: 4 February 2023).
Section
Transformative Agri-food Systems
License
Copyright (c) 2022 Egerton University International Conference
This work is licensed under a Creative Commons Attribution 4.0 International License.