A YOUTH INVOLVEMENT IN CLIMATE RESILIENT ENTREPRENEURSHIP AS A WAY TO REDUCE CLIMATE CHANGE
CLIMATE RESILIENT ENTREPRENEURSHIP
Keywords:
YOUTH ENTREPRENEURSHIP, CLIMATE CHANGE, CLIMATE RESILIENCE
Abstract
YOUTH INVOLVEMENT IN CLIMATE RESILIENT ENTREPRENEURSHIP AS A WAY TO REDUCE CLIMATE CHANGE IN KENYA: A REVIEW
Onyango*, O.I. Ayuya and K.W. Sibiko
Department of Agricultural Economic and Agribusiness Management, Egerton University,
 P.O Box 536-20115, Egerton, Kenya.
            *Corresponding Author: lilianonyango96@gmail.com  +254741 606 089
The United Nations Sustainable Development Goal 7 envisions a future with reduced carbon emissions, climate resilience and sustainability. The timing is vital in pursuing the vision. The effects of climate change are taking a toll on the sustainable development of most African countries. Involving the youth in taking up innovations is a key catalyst in ensuring the efforts to achieving the vision is realized. Kenya has been challenged with establishing a continuous supply of innovative entrepreneurs even though the need for enthusiastic entrepreneurship continues to rise. The traditional agricultural system has not put much emphasis on supplementing innovation capacities by influencing the interaction between the present situations, technologies as well as resources. Investigation of the different ways in which the youths can actively involve in entrepreneurial activities geared towards mitigating climate change would go a long way in informing the efforts to climate change mitigation. The study systematically investigates the need to involve the youth in climate entrepreneurial practices by reviewing different publications from institutional websites and data from the climate change mitigation agencies. The capacities of the youths must be built to engage in climate mitigation goals while building a strong resource-based survival strategy. Apart from technological innovations, other innovations important to engaging the youth in climate change mitigation include strengthening the linkage between the formal and informal systems. Evolving microfinance into micro venture innovation finance platforms can help build risk-taking individuals that would in-turn build socially, economically and environmentally sustainable enterprises.
Keywords: Youth Entrepreneurship, Climate Change, Climate Resilience.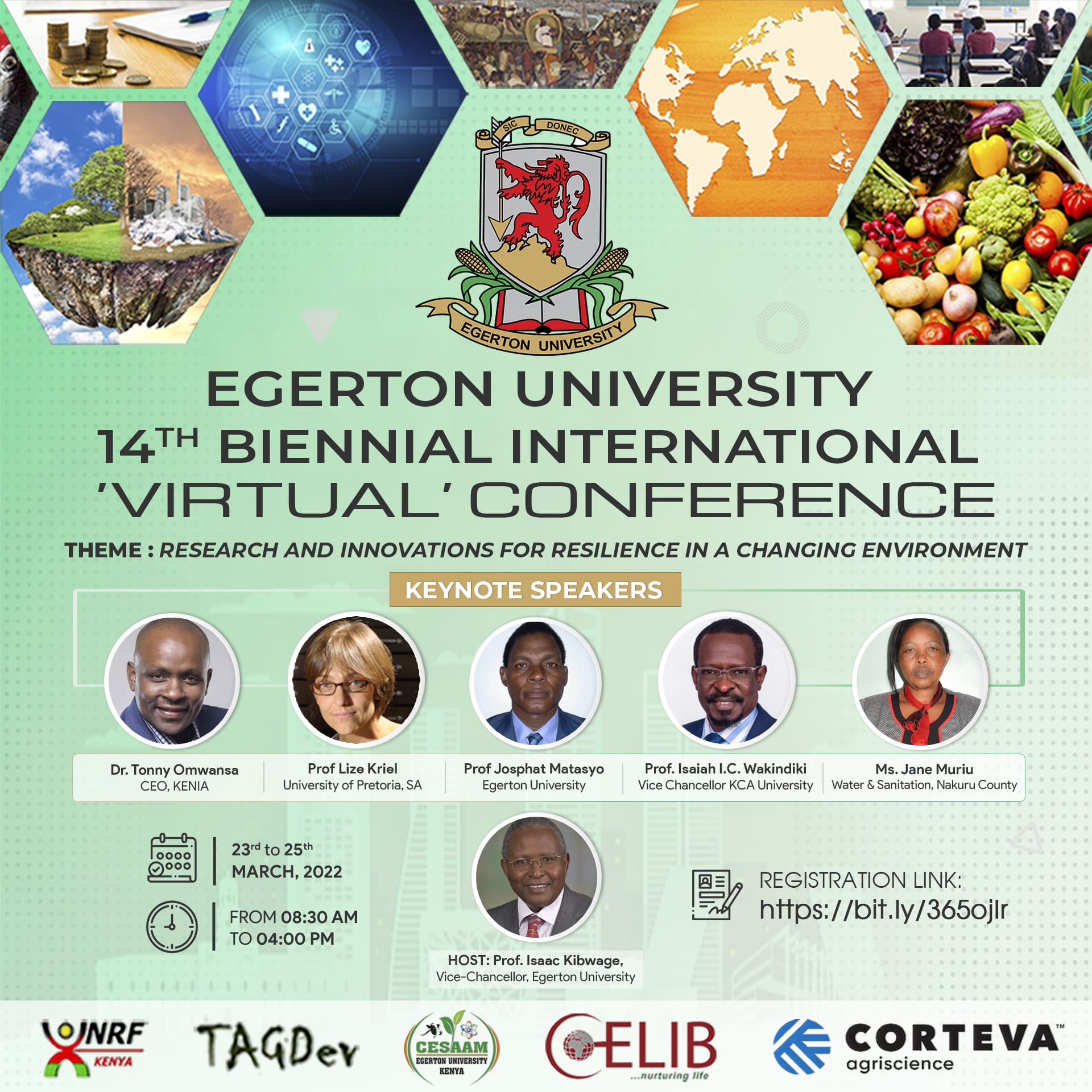 How to Cite
ONYANGO, L., INGASIA AYUYA, O. and SIBIKO, K. W. (2022) "A YOUTH INVOLVEMENT IN CLIMATE RESILIENT ENTREPRENEURSHIP AS A WAY TO REDUCE CLIMATE CHANGE: CLIMATE RESILIENT ENTREPRENEURSHIP", Egerton University International Conference. Available at: https://conferences.egerton.ac.ke/index.php/euc/article/view/144 (Accessed: 4 February 2023).
Section
Entrepreneurship, Business and Trade
License
Copyright (c) 2022 Egerton University International Conference
This work is licensed under a Creative Commons Attribution 4.0 International License.